Samburu National Reserve
Our Expertise
"Nahim is a fountain of knowledge about the whole area and the Samburu people. Make time for a trip up to the Matthew's Mountain Range with him – absolutely fantastic, unspoilt country and worth the effort" Harriet H, March 2016 (as reviewed on Tripadvisor)

Lion King Bush Camp and Safaris is owned by Nahim Khalil, whose story begins twenty-five years ago, when he first set up a camp in Samburu National Reserve.

A licensed safari guide, born on the Kenyan coast, Nahim spent several years exploring the mountains of the Matthew's Range on foot, living daily life amongst the Samburu people. He is a speaker of several Kenyan languages, a skill which allows him to break down barriers and absorb local cultures in a way which many will rarely experience. He has also spent lengthy periods of time living in Western Kenya, Nairobi, Lamu and the more remote, northern regions. Anyone who meets Nahim will agree he is a master story-teller and someone who'll engage you immediately and keep you entertained for hours on end. He is a passionate follower of current affairs and has wide-ranging interests from politics, conservation, and history to art, archaeology and design. Most of all he enjoys meeting and hosting guests from all walks of life and sharing some of the special, unspoilt corners of Kenya via roads less-travelled.

Nahim arranges off-the-beaten-track safaris all over Kenya, with a particular love of exploring the lesser known routes. His safaris promise an experience of someone whose love of their homeland has taken them far beyond the realms of any standard tourist track.

For more details please contact +254 710 350 782 or email lionkingbushcamp@gmail.com
Games Drives
Game drives throughout Samburu National Reserve are also offered during the early sunrise hours and late in the afternoon when sightings are most frequently observed. Bush breakfasts are a favourite amongst guests, where we set up private dining areas in scenic spots for coffee/tea, organic eggs, sausages, toast and fresh fruits, against a backdrop of birdsong and the rugged, green bush land which abounds.
Game Drive
Samburu Special Five
The Samburu National Reserve actually boasts its own Big Five or 'special five' as it is often referred to. Animals upon this exclusive list include the Grevvy's zebra, the long-necked gerenuk, retiuculated giraffe, besia oryx and the Somali ostrich.

Not only does Samburu possess its own special five, but the original African Big Five are also spottable in the vicinity so a trip on this safari does not mean missing out on what other African safaris have to offer.
The Camp
Lion King Bush Camp is located inside Samburu National Reserve on the Ewaso Nyiro River. It offers a natural, unspoilt environment with very little interference to the bush and its inhabitants. As such, the camp remains home to myriad birds, mongoose, vervet monkeys, genet cats, tortoises, monitor lizards, to name a few. Elephants are regular visitors, often crossing the river, or taking mud baths directly in front of the camp.
The atmosphere is informal, authentic, and designed for the experience-led adventure traveller. We usually dine together in the open-sided dining area or around the camp fire… though some prefer to have a private table set up under the stars. And by night, owner Nahim will entertain with stories of a lifetime spent in the African bush. We also offer 3-course dining for outside guests… Please enquire for further details.
Lion King Bush Camp offers 6 very private tents, each with outside seating area, double beds, inside the tent showers and toilets. We can also accommodate requests for triples or four people sharing.
Full board rates include accommodation, three home-cooked meals each day, and early morning tea and coffee served either at the tents or in the dining area. Half board rates include breakfast and dinner. We can also arrange packed lunches for those who wish to spend full days out in the reserve.
We welcome requests to hire the camp exclusively either on a self-catered, part-or fully-catered basis. Please enquire or further details.
Pitari's Camp
Pitari's Camp is the newest addition to the Lion King Safaris portfolio. Located on river frontage in the subliminal hills of the Matthews Range, we present our home-away-from home, named after our beloved late friend, Christopher Pitari Lekerpess. It was one of Pitari's dreams to have his own camp so he could spend his days close to the home he cherished more than anything. Just a few minutes on foot from his manyatta, we created Pitari's Camp in Chris's memory, and his family are its custodians.
The camp offers guests the chance to visit this beautiful, remote part of Kenya comfortably but affordably. We are ideally-positioned for walking the surrounding hills and forests, cultural excursions, and visits to the local manyatta where we'll be welcomed as good friends and not as tourists. Expect home-cooked meals, story-telling with wazee (old men) around the camp fire, and Samburu culture at its most natural and authentic.
A sample itinerary incorporating the Matthews Range is as follows:
Day 1: Arrive in Samburu National Reserve and spend the first night at Lion King Bush Camp.
Day 2: Early morning departure by car in one of our vehicles through the West Gate road up north to the Matthews Range. Arrive at Pitari's Camp for lunch and spend the afternoon walking, swimming and enjoying the peaceful environment of the camp. Sundowners will be served around the camp fire followed by a delicious home-cooked dinner. We might have the chance to walk up to the manyatta after and hear the young morans singing as they call in the night.
Day 3: Tea and coffee served around the fire before our departure into the forest for a morning of fishing, nature walks and local wildlife viewing. Whilst the larger species are shy in these parts, we may well come across buffalo, the odd elephant, perhaps a leopard if we are very lucky… But all our guests love the myriad birds, butterflies and smaller natural wonders of this enchanting region. Lunch is served back at camp with time to relax, read a book in the shade or take a dip in the cool river water. Late afternoon we'll take a walk through the valleys (perhaps with camels), stopping along the way to greet local children, or watch as cattle are herded home for the day. Evening back at camp.
Day 4: A hearty breakfast before our departure back to Samburu National Reserve. Arrival at Lion King Bush Camp in time for lunch and the afternoon at leisure. Meet your driver/guide back at camp and enjoy an afternoon game drive before dinner.
Rates: Visits to Pitari's Camp are offered as a 2-night package and for a minimum of 2 guests. Guests are asked to spend a night on either side at Lion King Bush Camp in Samburu National Reserve (additional cost) to allow enough time to drive up to the Matthews Range and back. Pitari's Camp rates are 32,500 Kes per person per night and include full board accommodation, local beers, wines and spirits, non alcoholic beverages (sodas and bottled water), conservancy fees, return transportation from Samburu National Reserve in one of our vehicles, all guides and activities… You will reconnect with your own driver back in Samburu National Reserve on return.
Accommodation
Booking Conditions & Cancellation Policy :
50% non-refundable deposit upfront in order to confirm the booking. Payable by MPESA. Remaining 50% due 7 days prior to arrival. Cancellations within 7 days of arrival are subject to 100% cancellation fees.
Payments can also be made via bank transfer to the account BE97 2100 2611 2149 of Olivier Tollet, please put a clear communication indicating the dates of the stay and specifying your name.
Contact us for more infos
Full Board

130$ person/night

 

Access to a private tent
Breakfast Included
Lunch Included
Dinner Included

Take-over of entire camp (on a self-catered basis)

Half-Board

115$ person/night

 

Access to a private tent
Breakfast Included
Dinner Included
Beverages
Beverages Prices ( Non-exhaustive) Alcoholic and soft beverages are not included but can be provided at the camp on request. We send each guest a drinks order form and price list one month prior to arrival.
| | Price |
| --- | --- |
| Lunch bookings | 25$ per person |
| 500 ml bottle of water | 1.5$ |
| 1 litre bottle of water | 2.5$ |
| Sodas (Fanta/Coca Cola/Sprite) | 2$ |
| Fruit Juice (1 litre) | 5$ |
Misc
| | Price |
| --- | --- |
| Car transfer from Nairobi | 225$ each way per vehicle |
| Park fees | $70US per person per day for non-residents and 1.000 Kes for residents of Kenya (payable in cash on arrival at the gate) |
| Camping fees | An additional camping fee of $30US per person per day applies to non-residents. For residents this is 500 Kes per day. Please refer to the Samburu National Reserve section for further details on park fees. |
| Game Drives | 180$ per 3 hours game drive |
We are located approximately 22km from Archer's Post adjacent to the bridge and a 5-minute drive from Samburu Lodge. The drive from Nairobi is approximately 6 hours and we can arrange a driver at an additional cost. Please enquire for further details.
Upon entering Archer's Gate take the main road for around 20km following signs to Samburu Lodge. Once you reach the signpost signalling the turnoff for Samburu Lodge, do not take this left but continue down the main road until reaching the next road on the left. Turn off down this road and continue straight. You will see a sign on the right for "research centre". We are not this turn off but the next one on the right. It's a very small little road but we are tucked away in our own private corner of the reserve.
Samburu National Reserve is situated at the southeastern corner of Samburu District in the Rift Valley Province of Kenya. It is bordered to the south by the Ewaso Nyiro River separating it from Buffalo Springs National Reserve. Samburu offers an abundance of wildlife in a spectacularly beautiful setting – the river its main artery fringed with doum palms and a mountainous backdrop in the distance. Once the long rains have been and gone the landscape completely transforms into a carpet of verdant green and wild flowers. Aside from the expected wildlife, also present are the Samburu "Special Five": Grevy's zebra, Somali ostrich, reticulated giraffe, gerenuk and the beisa oryx. The elephant life here is astonishing and we believe the reserve offers some of the best elephant viewings in all of Africa. It is very rare to be able to enjoy such up-close-and-personal sightings of these great creatures in their natural environment. We also have plenty of big cats including lion, cheetah and leopard… as well as the smaller species, the occasional sighting of wild dog, nocturnal creatures and a seemingly never-ending array of birds.
Samburu Map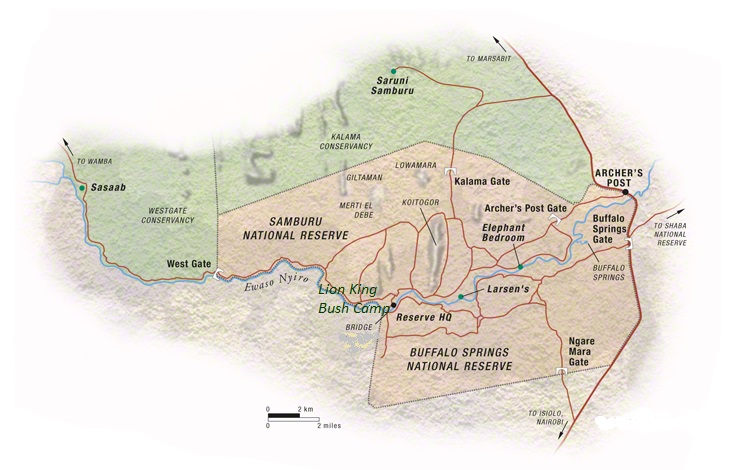 Testimonials
"Third time visiting Lion King Bush camp. Safe to say this place has pulled me in and is the perfect combination between adventuring and comfort. With Nahin being the most wonderful host and Sammy cooking great food, this is the place to be. Nothing is too much trouble, everyone there goes above and beyond to make your stay spectacular." Mikki K, November 2022
"Nahim was an excellent host and offered us to sleep with our rooftop tent in his camp right on the river, where elephants are drinking during day and night (and therefore pass through the camp). The camp is well organized, has clean tents and facilities and we enjoyed very tasty food. It's not so easy to find but Google maps helps.
Many thanks again, we would love to come back!" Wiebke90, Augustus 2022
"We had such a fantastic time at Lion King Bush Camp! Everything from the game drives, Delicious meals, Sundowners and stories round the fire in the evenings made our stay unforgettable.
I would like to thank Nahim and his team for looking after us and showing us Samburu over our 2 week stay. I will definitely return again and again. See you soon!" Trix H, May 2020
"The camp is the perfect place if you want a truly authentic safari experience" Nikolai von Stackelberg, March 2018
"This was my first time being in the Bush or going on safari and I am so happy I did it at Lion King Bush Camp! The setup is great with a beautiful sitting/dining area and upscale tents with real beads. It's located right next to a river so you get the beautiful view and the relaxing sound to fall asleep to." Madelaine, December 2017
"The location is fantastic, right in nature with great views of the river. The reserve is amazing, I saw 5 leopards, hundreds of elephants, with lots of baby elephants. Giraffe, Lion, Beisa oryx, crocodile, gerenuk, and much much more. The bird life is amazing. If you want a real safari experience this is the place to go." Ohad Azoulay, December 2017
"Lion King Bush Camp is a rustic, nicely designed camp with good sized canvas tents set by the river. Owner Nahim doesn't book any other guests when you're there so you have total privacy. The decor of the dining/public area is lovely, incorporating living tree trunks and other natural materials. There are outdoor bucket showers which are fun, and the food is delicious. There are no fences around the property so wildlife, like elephants, march right by your tent to get to the river. Best of all is owner Nahim, a charismatic and fascinating person who not only knows enormous amounts about Africa but can arrange game drives and other things for you if needed." Guest feedback, September 2017
"This camp has stolen our heart… So peaceful, so beautiful and wild… this place is a must stay if you love being away from ordinary places. You will find here something what you won't get anywhere else. This is a real bush camp in an unspoiled environment. Wild animals are freely walking through the camp and giving you unforgettable memories. And of course Nahim…. he made it more special. He is a wonderful person and a great story-teller. We really enjoyed every moment. The 3 days we have spent there was the highlight of our trip. It was really hard to leave….
Thank you for the memories…. we must go back!" Eva & Akos, September 2017
Contact us, we will come back to you shortly !